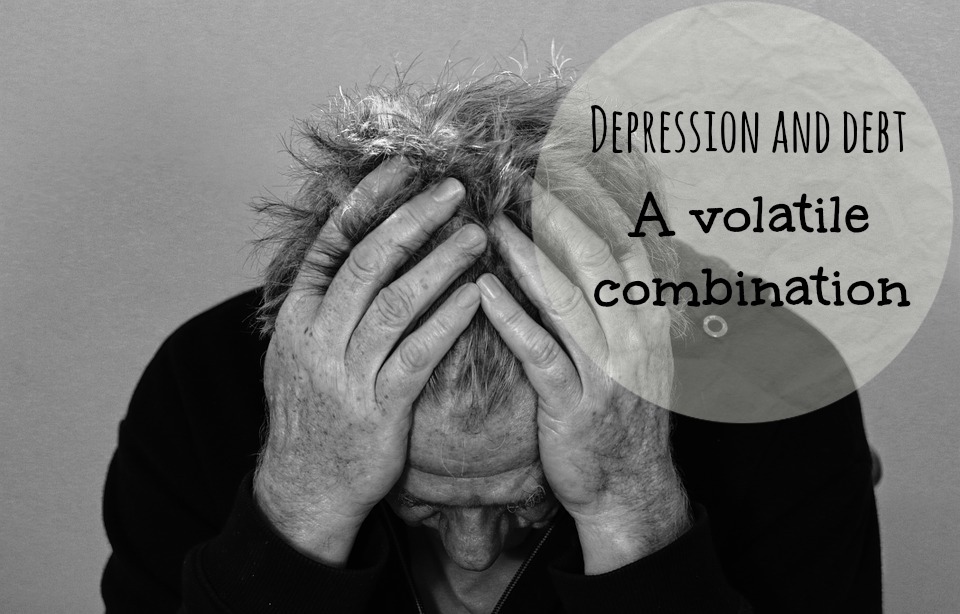 Depression and debt: A volatile combination
Debt can leave you with sleepless nights and endless worry. No wonder there is a very real link between mental health issues and debt too. You could be tempted to bury your head and try to push it to the back of your mind, you can feel guilty and embarrassed to speak about it out loud. But debt shouldn't be ignored and it isn't going to go away if you do. It may even make you ill.
According to the Royal College of Psychiatrists;
·         One in four adults will have a mental health problem at some point in their life.
·         One in two adults with debts has a mental health problem.
·         One in four people with a mental health problem is also in debt.
Whilst some people fall into depression because of their debt, others fall into debt due to depression − showing a link, but in two different ways. If you are struggling to keep up with your commitments and you are falling into debt it is imperative you;
Never ignore it. Your debt level will only continue to increase making things even worse further down the line.
Speak to somebody you can trust. Talking things through with someone can help to relieve some of the anxiety associated with debt.
Seek financial advice, whether that be from a free advice service (you can find sources of free advice through Money Advice Service), or talk to us. ClearDebt will always point you to sources of free advice if we can't help you with an Individual Voluntary Arrangement, a really good tool thousands use to get rid of their debt.
Talk to your doctor if you feel unwell,
Take back control of your finances by budgeting and keeping track of everything.
How do people fall into debt?
Some of the most common circumstances in life can lead you to fall into debt, or make an already existing debt much worse.
People suffering from any illness often find themselves falling into debt. If you have to quit your job or take long periods of time off work, it's likely you will have less money when your income is reduced and your costs have increased due to the need for medication and prescription charges. You may also have to make many trips to the doctors or hospital, incurring travel and parking costs that can leave a hole in your pocket.
Sometimes a spell of mental illness can trigger huge spending, an uncontrollable spending spree, buying lots of things you have no need for. If not tackled quickly, it could mean you spiraling into debt.
People on low incomes or benefits can find it difficult to keep their head above water. When outgoings are greater than income it can be difficult to find enough money to cover everything without borrowing to make ends meet.
If there is a dip in the economy, jobs are more likely to be under threat and benefits more likely to be cut. These are prime examples of life circumstances that could lead you into debt, or make any existing debts you had worse.
Having unmanageable debt can make you feel:
Everything has got totally out of control and there isn't anybody or anything that can help.
That all hope has gone, especially if your debt has spiraled out of control.
Embarrassed to open up and talk to somebody about your financial situation.
A sense of guilt that it is all your fault, even though you may have been suffering from a period of mental illness.
Depressed and anxious about how you are going to cope with the debt burden.
You're not alone
If any of the above relates to you, be safe in the knowledge that you're not alone and there is much help out there for you. Facing up to your debts and forming a solid plan to tackle them is the quickest way to give your mind some much needed rest from the worry and pressure that debt can bring. Your first step should be to seek medical advice. Then, if you do take debt advice, don't be afraid to disclose the facts about your health, they will always be handled sensitively and your advisor will be able to get your creditors to take this into account.