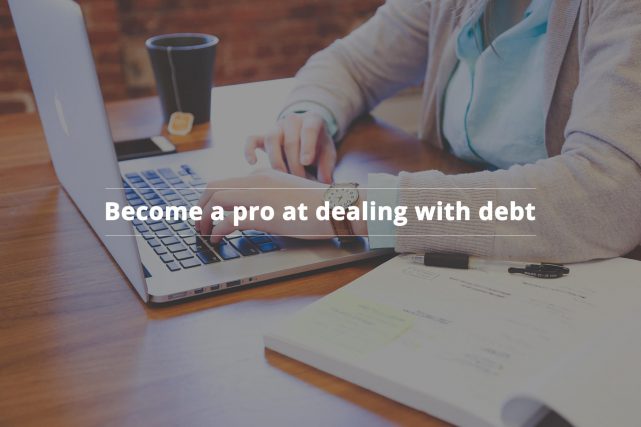 Do you want to be a pro at dealing with debt?
Debt has always been a 'dirty word' for many, but perhaps it shouldn't be. If carefully considered, taking on debt to further our futures can be a good thing. That will only ever be true if you stay in control.
In this short guide we will give you top tips to help you become a pro at dealing with debt.
Good vs bad debt: things to consider
If you want to be a pro at dealing with debt there are a few things you should think long and hard about before signing on the dotted line:
Is the credit going to improve my finances in the longer term?
Have I shopped around for the best deal?
Have I managed to borrow as cheaply as possible?
If there was a fluctuation of interest rates would I be able to cope with the higher repayments?
Are the monthly payments affordable?
Have I fully understood the terms and conditions of the credit agreement?
Have I checked for any potential risk factors should anything go wrong?
Am I confident my circumstances aren't going to change for the worse?
Do I have enough rainy day savings to make sure I can continue to make the payments if I have a short period down on my luck?
To be sure you are making a considered decision, first of all you must understand the difference between a sensible debt and an unwise debt.
What is a good debt?
The only good debt is something that is a sound investment in your future, leaves you better off in the long-term and does not diminish your overall financial well-being.
There should be a specific and justifiable reason as to why you are taking on the debt, no good comes from just taking money out for the sake of it. You must have a firm, well worked out plan to pay the money back, meaning you can clear the debt as quickly as possible, or by making regular payments over a number of years (as you would with a mortgage).
Payments need to be affordable and that means taking into account the fact that you could have less money to pay back or that the payments could rise if interest rates go up.
To ensure your debt is a 'good' debt, you must identify the cheapest way to pay it back; find a lender with the best borrowing method. For instance, if you find a credit card with an interest free period of say twelve months and you were offered a loan which had to be paid off over twelve months with added interest, the credit card would be the best option.
So what are examples of good debts?
Applying for a mortgage
A mortgage provides you with a place to live which will one day be yours, unlike renting. At the moment, it could actually be cheaper than renting and bricks and mortar can be a good investment − especially if you don't move often.
Once paid off, your home could be a financial asset, which is more likely to grow in value than decline if you keep it long enough, but you will always need somewhere to live so don't necessarily think you'll definitely be able to cash in by selling up.
Education
Applying for a student loan can fund you through university until you graduate. Graduates, on average, get paid higher salaries than non-graduates. This can be considered a good investment in your financial future, but most graduates are now ending up in non-graduate jobs, so consider carefully whether three years' education and a massive debt is what you need for a successful future.
That's not to say you shouldn't go to university just because you want to and because you think it will make you a more fulfilled person, but don't rely on it as a key to future riches.
Setting up your own business
If you have come prepared with a great business plan, a loan to start up your own business can be a good investment. If you make a success of your business, earning more than you borrowed as well as providing you with a living, it can be a fantastic investment.
As always, assess the risk. One in five start-ups fail in their first five years and your chance of being in business after five years is only evens. So, you could end up with a loan you can't afford to repay. If you have the drive, the big idea and can get the money though, being your own boss can be a route to prosperity, even if not a carefree one.
What is a bad debt?
An accountant would say a bad debt was one you were owed and knew would not be repaid. That's not what we mean here: A bad debt drains your wealth and doesn't add to it. There is no expectation of paying it off, or it is simply unaffordable.
The likelihood of a sensible payment plan is low and they are often run up by impulse buys rather than carefully planned decisions.
Examples of a bad debt
Running up debt to pay other bills
Borrowing money to pay other bills or debts is a recipe for disaster. If you are already finding paying off your current debt level difficult, the worst thing you can do is borrow more to pay other debts off.
---
---
The key here is to act quickly. You are not alone and there is plenty of help available to you.
Unaffordable luxury holidays
If you are unable to save for an expensive, luxury holiday, you are unlikely to be able to pay back a loan with interest for it either. You can live without that holiday so put it on the back burner until it is affordable.
Instead of making a snap decision to jet off to the sun, borrowing a grand each for the holiday and paying it back with interest, plan, and save £100 per month to pay up front − and earn interest too.
Buying brand new cars
New cars lose their value at a rapid pace, meaning you can never recoup the money you paid out. Rather than taking out finance on a car that will halve in value within the first year, consider buying a used car that will still do the job but can be paid off more easily and quickly.
That doesn't mean old bangers make sense either − repairs and MOT costs can quickly drain the piggy bank.
Only borrow what you need
If you have done your homework and you are sure the debt you are taking on is a good debt, don't get greedy when deciding on how much to borrow. Only borrow what you absolutely need to.
Borrowing more than you need, and no doubt can't afford, can turn a good debt bad extremely quickly!