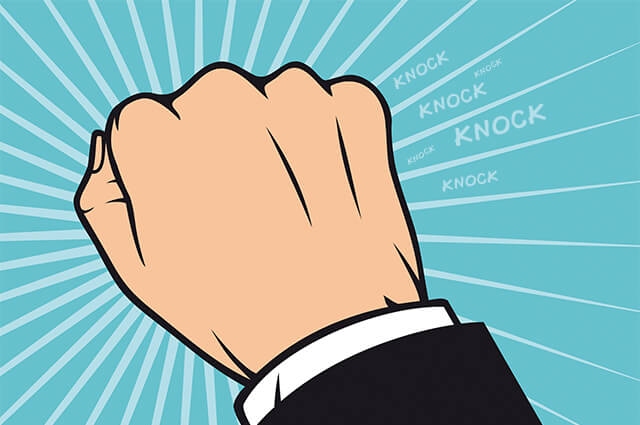 Bailiff hell: The Grim Reaper is knocking
It is the living nightmare for people up and down the country – the dreaded knock of the bailiff. There are many horror stories about people becoming prisoners in their own home, living in fear of the bailiff calling.
It is tempting to say that people who run up bills deserve all they get.  Maybe – but it is wrong to think that most people are in debt because they shop until they drop. Many are in a hole through no fault of their own, whether it is unemployment, sickness, bereavement or, for lots of people these days, reduced in-work benefits.
Are bailiffs failing the debtor?
Well – the bailiff (officially known as an enforcement officer) is just doing his job. The fault really lies with the people who are owed money and who send them in.
Local councils cause the bulk of all bailiff visits, a whopping 2.1 million referrals between April 2014 and March 2015! There can be an argument for both sides. On one side, you have someone struggling to make ends meet, on the other you have local authorities who have £5bn outstanding in unpaid council tax and business rates that could be used to build 300 new schools for an ever-increasing population.
However, when it is harming people's mental and physical health, surely the debtor's situation should be taken into account?
Horrifying accounts of bailiff harassment
A quick read of the Bailiff Help Forum can turn up some truly horrifying accounts of bailiff harassment. One account that caught my eye was from a lady, nicolee2931. Her son was diagnosed with a bicuspid heart valve at the age of four.
Now 17, his complications have had a torrid effect on her and her husband's finances over the last 13 years. Before long thousands were owed in unpaid council tax.
Her son went on to have a very serious operation and, as if their luck wasn't bad enough, her husband was then involved in a horrific car accident, leaving him with severe mobility issues.
Whilst holding everything together, she worked herself to the point of exhaustion and was later diagnosed with Fibromyalgia, leaving her unable to work. She has paid off quite a hefty sum with £3,600 still outstanding as of February.
With this in mind, should her local council have thought a little harder before sending a bailiff round to threaten to remove her possessions?
Council Tax debt recovery improvements needed
The Department for Communities and Local Government (DCLG) has called for an improvement in efficiency when it comes to getting back council tax debt. As part of the Better Business Compliance Cabinet programme, Manchester City Council, Salford City Council, HMRC and the Cabinet Office have cooperated in a trial to improve collection and efficiency.
The results of the trial have been taken into account in the proposals for improving the collection procedure for council tax.
A rather disturbing view on this comes from Barrie Minney, senior enforcement manager at Brighton and Hove City Council. He proposed…
1. Make landlords liable. In Brighton & Hove we have a large number of students and an even greater number of short term lets. I wrote to my MP years ago suggesting that a simple way to improve council tax collection was to make landlords liable.

Too many absentee landlords get an income but put nothing back into the local economy. Central government's response was to say that residents pay council tax in the interests of democracy.

2. My personal favourite; liability orders should be registered as a County Court Judgment (CCJ). It's the biggest question we get – 'will this affect my credit rating?
My personal favourite? I find that particular turn of phrase abhorrent to say the very least. When we live in a society where agency workers are often hired and fired at the drop of a hat, I find his comments to be out of touch with the problems many families are now facing.
The impact of two weeks without money for a low-income family can be catastrophic. The council can very often take several weeks to adjust payments for these people, expecting them to pay what they physically don't have.
Many debtors are single mums relying solely on benefits or working part time and now he wishes to further punish these people by imposing a CCJ as well.
Advice rather than bailiff action
I'm amazed at the horror stories and the seeming need of local authorities to try to squeeze blood from a stone. Especially as, in the early stages of arrears, many councils can be quite supportive and helpful. It's almost as if they all have a "no more Mr Nice Guy" button somewhere.
For me the solution is advice. Most people who can't pay their council tax are behind with other stuff as well. Councils should be making sure people who can't pay are getting advice on all their debts as early as possible.
Have you or someone you know been a victim of bailiff harassment? Please leave comments below – we would love to hear your thoughts.