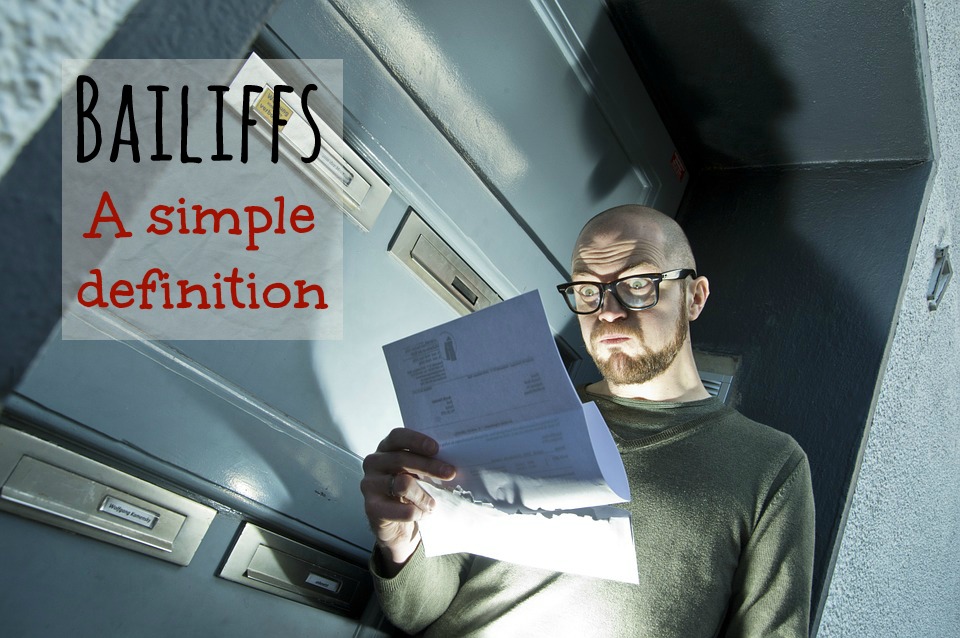 Bailiffs: A simple definition
If you have fallen behind with your debt repayments or defaulted on debts you owe, you could be threatened with bailiff action.
In this short guide we'll explain what a bailiff is, when they can be called upon to collect debts and the difference between a bailiff and a debt collector.
What is a bailiff?
A bailiff can be a court official or hired by a private firm, these days they are officially called enforcement agents and any paperwork you receive from them will use this term. However, they are still commonly known as bailiffs.

A bailiff is somebody who has the legal power to collect certain debts from you. They can ask you to pay back what you owe, or take your belongings to sell and raise the money.

A bailiff could visit your home if you owe money, to see if you own anything of value that can be sold to pay back your debt. The money raised will also be used to pay the bailiffs added fees and charges on top of the debts you owe. This can mount up very quickly, so it's best to take action as early as you can.

Bailiffs are generally used as a last resort when a creditor has tried other means to get you to repay your debt. You normally receive written warning from your creditor to inform you of their intent to use a bailiff to get back the money owed.

If you receive such notification you should speak to your creditor and seek financial advice immediately. A trained advisor may be able to help you create an arrangement with your creditor and help you avoid bailiff action completely.

[Call to action – bailiff help guide link]
What debts do bailiffs chase?
Bailiffs are only allowed to collect certain types of debt, including:
Parking fines
County Court Judgements (CCJs)
Council tax and business rates
Magistrates' court fines and compensation orders
Maintenance
Child support
High court judgements
Income tax, national insurance and VAT
Business rent
All of these are serious matters and should not be ignored. If you are struggling to meet your payments on any of them you should seek advice as soon as possible from a free service (you can find sources of free advice through Money Advice Service ) or a respected, reputable company such as ClearDebt.

[Call to action – debt advice]
What's the difference between a bailiff and a debt collector?
Many creditors will use a debt collection service to get the money back you owe. A debt collector does not have the same legal powers as a bailiff and should never pretend to be one to worry you into paying a debt.
A true bailiff has to go through a certain process in order to act and will have been given special authorisation to act and retrieve the debt owed.
How to tell the difference between a bailiff and a debt collector
Check the following if you are unsure whether the person contacting you is a bailiff or a debt collector.
What debt are they chasing you for?
This is a nice easy one. Quite simply, if the debt doesn't appear in the list above, it's not a bailiff.
Have you received notice of enforcement?
You must receive official notice of impending bailiff action if a creditor has asked one to act. A bailiff must adhere to a strict format, therefore if you haven't received an enforcement notice it is highly unlikely to be a bailiff.
Has the officer turned up at your door without notice?
A bailiff must give you advance notice before they can visit your home, so if you've had a visit without warning it's probably not a bailiff.
A debt collector can chase you for money that you owe, however, they are not allowed to take your belongings.
If you have had difficulty with the behaviour of a debt collector, you should complain to the original creditor and contact your local trading standards department.