Introducing the IVA estimator
Introducing the IVA Estimator – guidance on how much you can expect to reduce your debt by when in an IVA with ClearDebt
We've got a new tool on our website – the IVA Estimator.
It's a work in progress, but one we are very proud of. You input how much you owe and how much you earn and it tells you how much you are likely to save if you enter an IVA with us.
It's no "finger in the air" job.
Our estimator is based on our real data; taking the debt level and income figures from every single one of the thousands of IVAs we've put in place over the years and returning an average for the debt repayments we saved for each client in that particular combination of debt and income.
Sliding takes just takes two seconds
It won't stand still either – the database will be updated regularly to ensure the estimate we give you is the most accurate.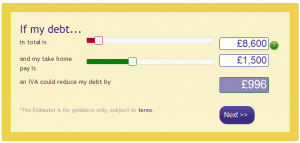 All you need to do is to pull the top slider across until the box alongside it displays the level of unsecured debt you currently have (that's credit cards and loans – don't include your mortgage if you are a home owner). Let go.
Now pull the lower slider across until the figure in the box displays your monthly take home pay (what you get in your bank account after tax and national insuarance have been deducted). When you let go of that slide the figure in the box below will show you how much of what you owe is likely to be written off in an IVA.
And remember, this is based on what we have really achieved for thousands of real people, just like you.
A pinch of salt
The result you see it is based on the best possible figures, but it is still just an estimate.
The specific figure in your case will be different, depending on your situation – whether you have a partner (and how much they earn), whether you own a home and have a mortgage, whether you have kids … etc – all these factors, and more, will affect the IVA contributions and the debt write off you can expect – If you are suitable for an IVA.
It also assumes the IVA will last 60 months, this is the norm, but each individual's situation can affect the IVA's duration too.
But, our Estimator and the IVA facts on the same page are a good starting point if you want to decide if an IVA is right fot you.
If it looks like an option you should investigate, then take a look at our IVA FAQs too. You can leave us a query on that page too – or talk to an advisor now.
Things can only get better
IVAs are not the only debt solution, but for many, the represent a solid, sensible route out of debt. It may or not be an appropriate solution for you and our Certificate in Debt Resolution qualified advisors will always advise you on all your options and help you make an informed choice.
We think the IVA Estimator is a good first step – and it's early days for this tool. It's responsive and as accurate as we can make it (based on real and current data) but we are going to improve it too to help provide an even better guide.
Go on, give it a go.