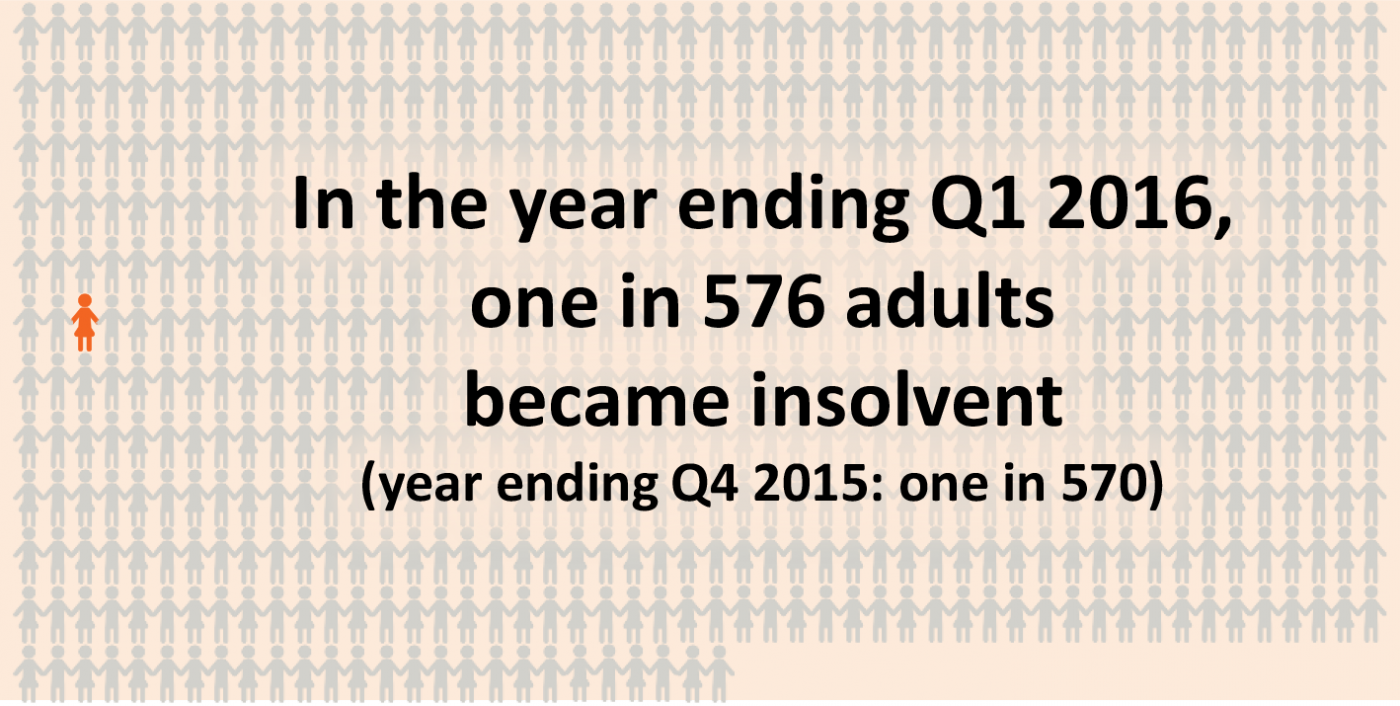 DROs and IVAs rule the roost
Whilst the number of people choosing insolvency to deal with their debts went up in the first three months of this year, the number going bankrupt is now the lowest since 1990, as shown by government figures released today (Friday 29 April 2016).
2015 changes in one insolvency procedure, the Debt Relief Order (DRO), seem to have hastened the long-term decline of bankruptcy, often seen as the least forgiving debt solution.
The most popular formal way of dealing with debt, the Individual Voluntary Arrangement (IVA), stays at the top of the tree, with relatively unchanged numbers.
One in 576 adults became insolvent in the last year
With overall personal insolvency in the UK up slightly by 0.3%, a dip in IVAs of 1.2% and a drop of 0.7% in bankruptcy cases, maybe it should be no great surprise that DROs have increased and risen by 3.4%.
25% of DROs in Q1 were made on debt higher than the previous threshold, so it's safe to assume the change in DRO criteria has had a big impact and DROs have become much more accessible to many more people.
Bankruptcy levels at a 26-year low
Bankruptcy is now at its lowest level since Q4 1990. IVAs remain as steady as ever and DROs are now at their highest level since Q3 2014.
Bankruptcy costs rose in 2015, which may also have contributed to the decline – but earlier this month it also moved to a simplified online system, which may revive its use.  We won't really be able to see the true effect of these changes until we get to at least the end of Q3 2016.
However, our prediction is that bankruptcy numbers will continue to fall as more and more people become aware of the advantages of DROs and IVAs.
Phillip Sykes, president of R3, comments on the insolvency statistics:
Despite the quarterly increase, personal insolvencies – particularly bankruptcies – are at a historically low level. In fact, they are at their lowest level since Q4 1990. However, it should be remembered that the official figures don't include those people in debt management plans. Until the Financial Conduct Authority starts to track the number of these plans, we won't know the full extent of personal insolvency in England and Wales.
Until debt management plan figures are tracked, we still cannot see the true relationship between them and insolvencies. Over to you FCA…
Images used in this article are from The Insolvency Service.