Could you eat your debt in Big Macs?
Back in July 2010 the average Brit owed £4,513 in credit cards and unsecured loans. That's according to statistics compiled by The Money Charity. In July 2016 the same average person owed £3,695. That's a fifth less. So the amount we owe has come down. Quite a lot.
Big Mac Index
But, if you use a rather zany measure of value, our debt has dropped by more. Measure total credit cards & loans by the number of Big Macs that would have bought six years ago and we'd have had to munch our way through 38 Big Macs every week. In July this year we'd have needed to scoff a mere 26. Still  gut-busting at nearly four burgers every day . But a  third less than the five and a half Big Macs we'd have chomped through daily in summer 2010.
This may seem a stupid statistic. But hang on a minute: The Big Mac index is widely used and even has it's own website. It's really there to compare currency exchange rates. The principle is that the product is identical everywhere. Thus seeing how many Big Macs the pound and the dollar will buy could show you which currency gives you more value. Here I'm assuming (and I'm no economist) that McDonalds will try to keep the UK price of Big Macs at a similar level of affordability – and so this should help us to compare the amount of debt we are trying to repay every year.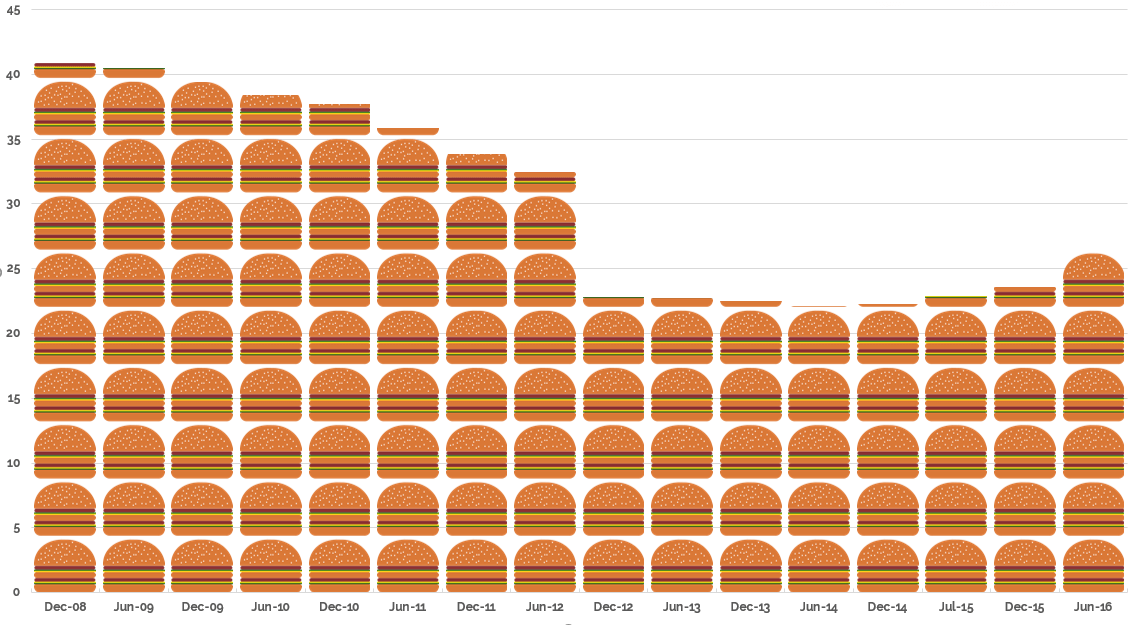 ---
Indigestible debt
It's good that consumer credit debt is coming down. The Money Charity's figures also show that, when they started compiling data back in 2008, the average household owed £59,375. Now (data from July 2016) it's £55,442. That's a drop of just seven per cent in cash terms but 25% in Big Mac purchasing power.
So you'd think people would be finding it easier to cope. But many of us are still finding debt difficult to digest. Particularly now that the most common debt worry is no longer paying back your credit card. Instead, bailiff's banging down the door for council tax and rent arrears is the biggest concern.
If you think your debt is out of control and that a Cleardebt IVA could be the answer we'd be happy to explain more- or just use the slider below to see how much money real people in a situation like yours saved using a ClearDebt IVA. If you want to see how many Big Macs that is, just divide the result by £2.69.